"It was just one mistake…"
Let's start with the word 'mistake'.
We've all made them.  I've made sooooooooo many mistakes – and not just that unfortunate wedge hairdo in the late 1980s.
The key bit with mistakes is we MAKE them. You.  Me.  A mistake is something we did.  Something we did intentionally. I made a decision, probably several, which included committing to a course of action.  Because the word "mistake" is being used, those decisions and that course of action has came back to bite me in the ass.  Technically speaking, what is biting me in the ass are my mistake's negative consequences.  Those consequences likely suck, and may seem, like, super-harsh – that doesn't make it any less mine. I  own that shit.  I own all the shit consequences that come with that mistake that I MADE.  Because I MADE it. Intentionally.
"…but it was just one mistake."  This is often said in the same way one would say, "…it just slipped from my hand." As if one's mistake isn't a mistake, but an accident.
An 'accident'.  We've all had these too.  I accidentally fell down a flight of stairs, tearing two ligaments in my ankle. Hurt like a motherfucker and there was physical therapy and medical expenses and… well, you get the idea.
It seems of late, folks are using 'mistake' like 'accident' to affect a definition change.  Because I'm a cynical meanie, I don't think it's because some people don't know their words.  Nope, I think they're are trying to get away with bullshit.  They're angling to avoid or minimize those pesky negative consequences.
Flying Spaghetti Monster knows, the negative consequences of a mistake can really suck.  Well, buckle up, buttercups! Because a mistake means we gambled, we lost, and now we have to pay. The payment may be more than we'd like.  More than we deem fair.  Because when we make a mistake, when we intentionally do something, we're the one's that get to decide on the cost of that something.
Oops! My bad. We're totes not the ones that get to decide the cost of our mistakes. That is perhaps one of the suckiest things about fucking up.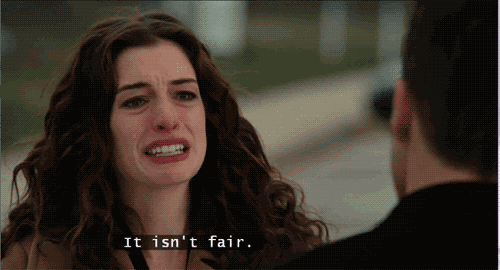 Oh, that's a tricky one – 'fair'.  Who get's to decide what's 'fair'? The person that made the mistake? The BFFs of the person that made the mistake? The person or people one's mistake hurt?  The BFFs of the person or people one's mistake hurt?  The ombudsman?
Before we all start worrying and arguing over about how much we gotta pay, let's first acknowledge that we owe. We did that shit, time to own it.
_____________
@DrRubidium
Editor-in-Commandant
_____________
Arrested Development image from

here
Definitions are screen captures from 

http://www.merriam-webster.com
Anne Hathaway image from
here